Along with 3 years of sobriety, I recently celebrated my 42nd birthday; both, I believe, to be absolute miracles considering how close I was to death from drug and alcohol addiction.  Just 3 years ago, I was suicidal, overweight, bedridden, in severe pain from Opioid withdrawals, and always at home, alone in the dark.  Everyday was a horrible struggle to feed my addiction in order to avoid withdrawal. I had completely given up hope that I would ever live a healthy, sober lifestyle.  So when I traveled to Southern California this past month to do a photo shoot with legendary fitness photographer Michael Neveux, it was a dream come true for this 42-year-old recovering addict.
What seemed like the impossible had become a reality when I saw my photos.  Truth be told, it's incredible what a great photographer, excellent lighting, a dark tan, and some baby oil can do to make your physique pop! However, Arnold Schwarzenegger said it best, validating that a well-built physique is something you must work hard for:
"A well-built physique is a status symbol. It reflects you worked hard for it, no money can buy it. You cannot borrow it, you cannot inherit it, you cannot steal it. You cannot hold onto it without constant work. It shows discipline, it shows self-respect, it shows patience, work ethic and passion. That is why I do what I do."- Arnold Schwarzenegger
As a sober fitness coach, I help addicts understand why fitness is such a critical part of the recovery process. Of course, we discuss the many other things that will accelerate an addict's road to recovery including building a strong support system, proper nutrition, volunteer work, etc. Nevertheless, fitness is always at the top of my list when I coach individuals who are looking to make a complete mind, body and spirit transformation.  
Here are just a few of the reasons why fitness is #1 in my coaching philosophy.  
Support – There is an awesome Ted Talk by Johann Hari where it is said the opposite of addiction is connection. So true!  The gym can be a great place to connect with others who are also are pursuing a healthy, active lifestyle.  I've met countless individuals at gyms all over the country who completely agree that fitness is a very important piece of their recovery process.  If you need some extra support and motivation, consider hiring a personal trainer (Hiring one who is also in recovery in an added bonus!).
Environment – Gyms tend to have higher ceilings and lots of light fixtures that provide plenty of illumination making the environment feel grand. In addition, there is often upbeat music playing, plenty of movement, and some high energy classes going on which can create a very positive energy environment for an addict to submerge themselves.
Discipline – When people escape addiction they can benefit greatly from developing self-discipline. If you want to build more discipline in your life, try becoming more fit. Fitness is the best discipline training method there is!  Make a commitment to a fitness regimen and stick to it no matter what. Don't make excuses for why you don't have the time or the energy to workout…JUST DO IT!
Routine – Adding a solid daily workout routine can help an addict stay more focused, organized, and active. Building a new routine, especially when you're early in the recovery process, can be tricky so pick a realistic time frame that works with YOUR schedule. Make exercise a priority and something you do every day like you do with brushing your teeth. With the proper goals and mindset, you can make fitness part of your daily routine.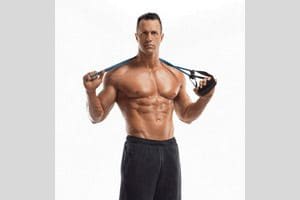 Physique – Imagine looking in the mirror naked and saying, "WOW, I look good!" Going to the gym on a regular basis, along with maintaining a healthy diet, will ultimately result in a well-built physique you can be proud of.  Never ever have I heard someone tell me they wish they didn't have a six-pack.  LOL! I promise, once you've made the decision to get sober, you can definitely have the body of your dreams because you'll have so much free time that you used to spend drinking and using. You'll now have the time to focus on looking your very best.
Self-Confidence – Addiction can cause us to create a very negative perception of ourselves and our abilities. The good news is that research has very clearly shown a strong link between positive self-esteem and physical fitness. When you exercise regularly, not only will you feel better mentally, but you'll look better, and your self-esteem will improve. Exercise is an important tool to help an addict rebuild their self-confidence.
Fitness has played an enormous role in the recovery process for many addicts, including myself.  I continue to see tremendous benefits of making fitness a huge priority in my new sober life. I will forever be grateful to all my mentors, trainers, and coaches that helped me understand the importance of fitness, nutrition, and going to the gym. I want to encourage and hopefully inspire all recovering addicts to join a gym and embark on your own fitness journey.  It doesn't matter where you came from, how old you are, or what shape you're currently in, fitness will help you look, feel, and be YOUR best.  Now let's get it on!!!!!!!!!
If you or someone you love is struggling, please don't hesitate to Contact Us.
gethelp@sobercoaching.com
Tags:
EXERCISE
,
Fitness
,
SOBER
,
transformation
,
WORKOUT