Addicts are often referred to as selfish individuals and volunteers are considered to be selfless humanitarians.  I personally committed countless selfish acts in my 20-year battle with drugs and alcohol and made a zillion empty apologizes for my selfishness.  I admit I had become completely consumed with escaping from my own personal hell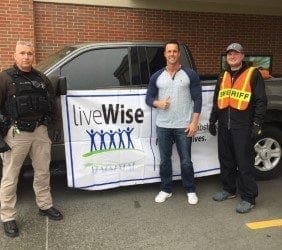 and the pain I was experiencing.  I would literally do anything to feel differently and that often involved me committing selfish acts that often led to me hurting myself or the people I loved the most. I finally realized how many people I had hurt from my selfish behaviors when I got sober on 3/6/15. I made the decision that I was going to attempt to right as many wrongs as I could in my recovery process.  The day I got home from rehab, I began researching volunteer work because I felt that volunteer work was the purest form of selflessness, the opposite of selfishness.  In the months that followed, I volunteered at various organizations that meant something to me personally and that I was passionate about. I am proud to say that I am currently a volunteer at GRRIN (Golden Retriever Rescue of Nebraska), Big Brothers Big Sisters of the Midlands, and LiveWise Coalition.  I cannot explain the satisfaction and pride I feel when I give my time and energy to these amazing organizations that do so much good.  It's an honor and privilege to be work alongside the hard working and dedicated individuals who give so much to these organizations.  It's my opinion that true recovery happens when you stop serving yourself and start serving others.
I Don't Have Time To Volunteer
I hear this all to often when I talk to people in recovery about doing volunteer work, but most everyone says they want to volunteer.  THEN DO IT!  Addicts always have enough time to drink and use and hunt down their next fix, which trust me can be very time consuming.  If you are sober, there are surely a couple hours a month available in your schedule to give back.  I recommend you ask yourself what cause means something to YOU and that is the organization you should reach out to.  Addiction is usually the result of some kind of trauma that happened at some point in our lives so I encourage those in recovery to do some soul searching and ask where you feel you could make a difference based on your own personal experiences.  There are thousands of charitable organizations out there that always need volunteers and I promise they will welcome you to join their group and help do some good.  I promise your recovery will be accelerated when you selflessly give your time to those in need.
"What is the essence of life? To serve others and to do good." – Aristotle 
If you or someone you love is struggling, please don't hesitate to Contact Us.
gethelp@sobercoaching.com
Tags:
addicts
,
selfish
,
selfless
,
volunteer